After two years of a pandemic-induced hiatus, Charlotte Pride Festival and Parade returned to Uptown on August 20-21, 2022. The Charlotte Pride event is the city's largest street festival and annual parade. This year's grand return marked 20 years of Charlotte Pride and more than 40 years of Pride legacy in the Queen City.
Participation in this year's event was overwhelmingly high with nearly 100 vendors being turned away due to space limitations. Loan Pronto was lucky enough to participate in this year's festivities, holding a walk-up booth for both days of the festival.
Charlotte Pride's two-day cultural celebration included a variety of national, regional, and local entertainers, musicians, and bands, as well as hundreds of participating vendor booths, including art exhibits, local nonprofits, retailers, and food trucks, among others. Attendees were able to stop by Loan Pronto's booth for glitter, beaded necklaces, rainbow fans, buttons, bubbles, and more.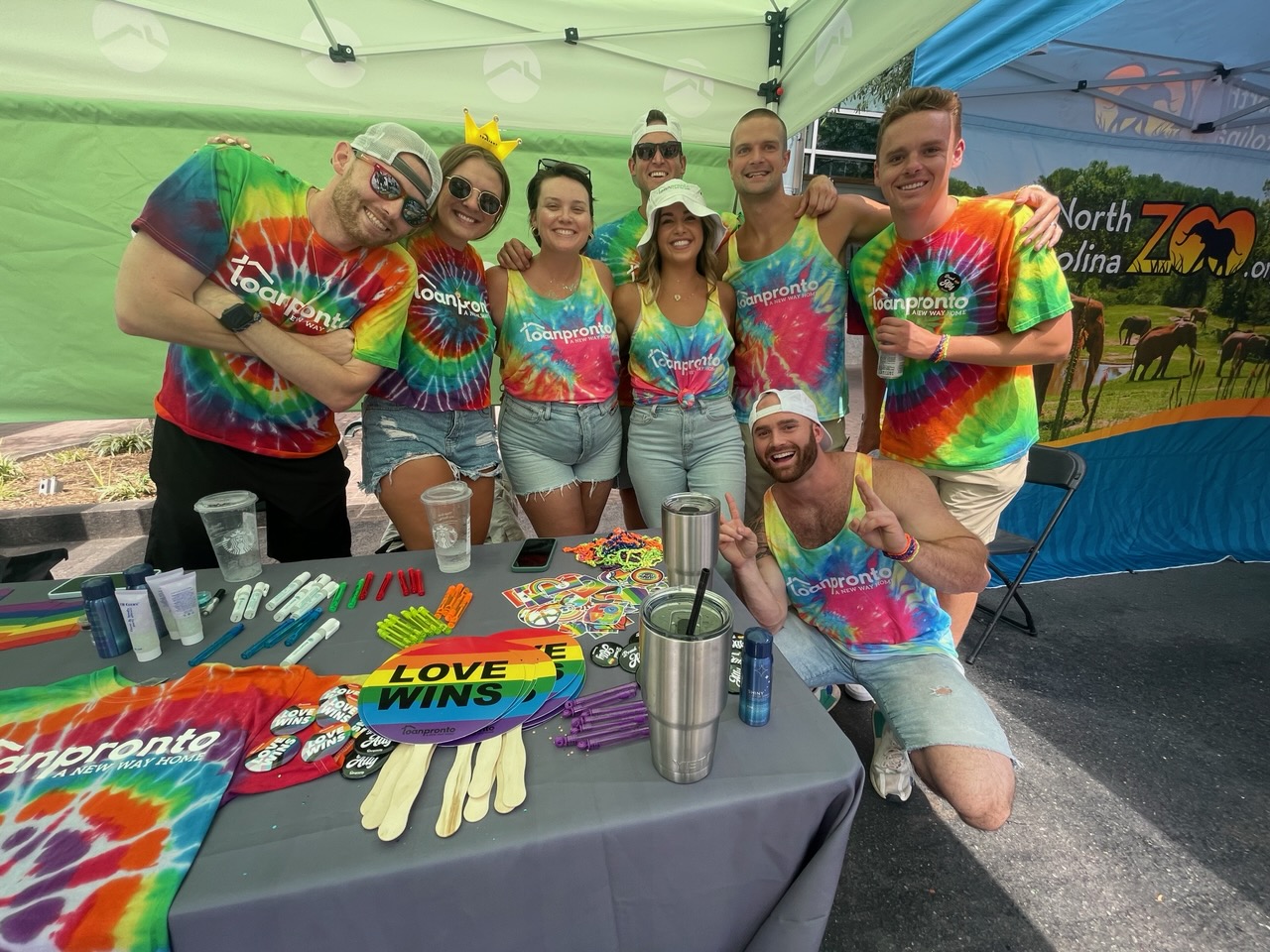 Participating in this year's Charlotte Pride Festival and Parade was a great opportunity for employees at Loan Pronto to be active allies to the LGBTQ+ community. "This was my first time attending the Pride festival, and it didn't disappoint," said Ben Lewis, Senior Mortgage Consultant and Team Lead at Loan Pronto. "The people, vendors, staff, and community all showing love and support throughout uptown Charlotte was absolutely amazing to see."
Rachel McGraw, Marketing and Events Manager at Loan Pronto, was also pleasantly surprised by the attendee's enthusiasm and energy. "It was so nice to be around people who were always smiling and so happy to be there. You could tell everyone was in such high spirits – it was contagious!"
According to Charlotte Pride, the Charlotte Pride Festival and Parade is the single-largest opportunity affirming corporate partners, small businesses, and local and regional nonprofits to connect with the LGBTQ+ community each year. "Working Pride was a great opportunity to be a part of the community in a fun environment!" said Kelsey Carpenter, Loan Funder and Closer at Loan Pronto.
Charlotte Pride has come a long way since its founding and first event in 2001. Matt Comer, Director of Operations and Communications at Charlotte Pride, says an estimated 275,000 people flooded Uptown for the festival this year, breaking 2019's attendance record. From 2,000 attendees in 2001 to a record-breaking 275,000 in 2022, this year's Charlotte Pride Festival and Parade was a big win for the city of Charlotte and an even bigger win for the LGBTQ+ community.
Loan Pronto is proud to have been included in this year's Charlotte Pride Festival and Parade and even prouder to be an ally of the LGBTQ+ community. We hope to see you next year!
Get My Free Rate Quote