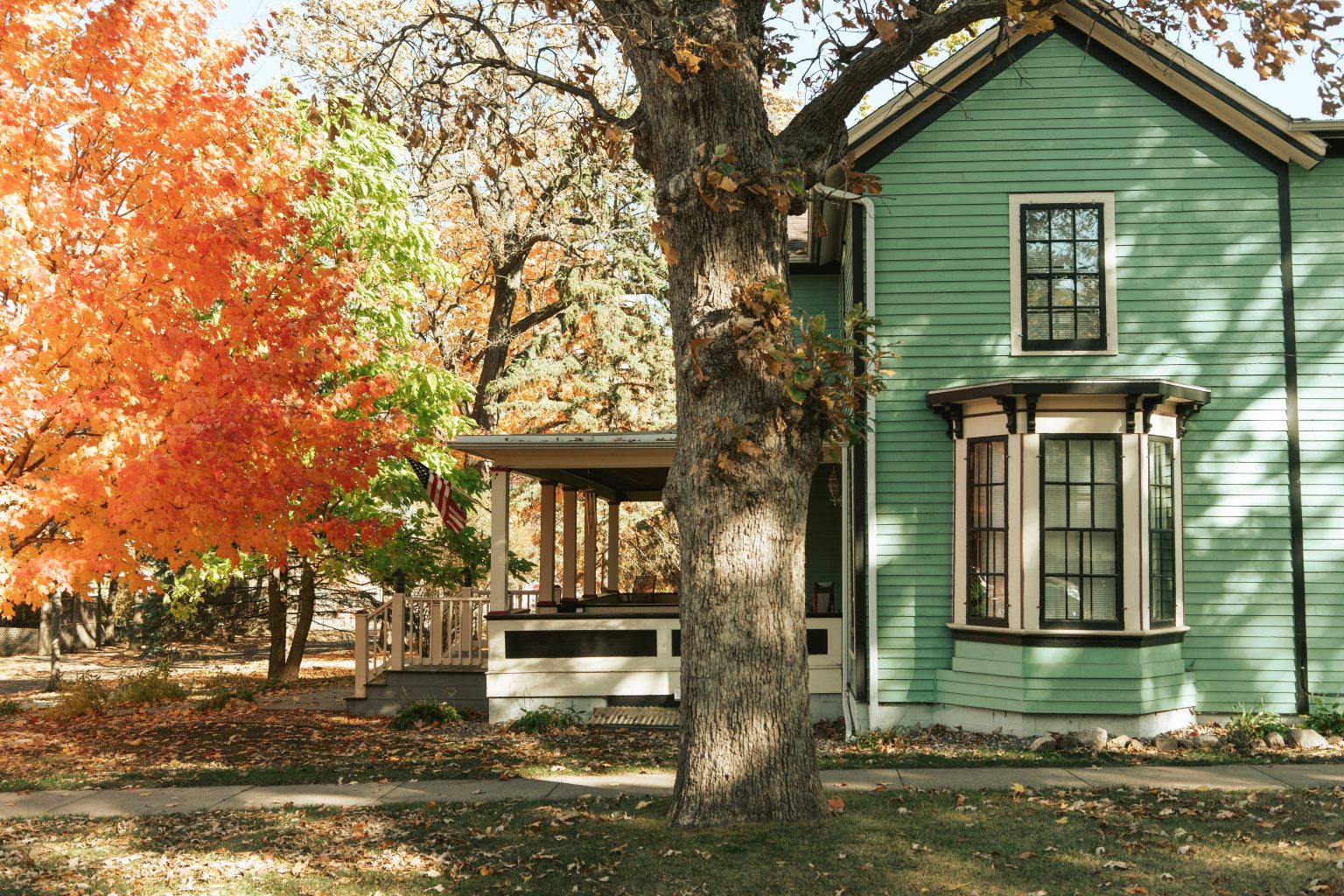 Happy fall y'all! With fall comes sweater weather, pumpkin spice lattes, football season, and…fall maintenance? Yeah, that's right – it's time to tackle a few simple chores to prepare your home for the winter months. 
These quick tips can prevent costly damage and will keep your home running in peak condition all winter long. Homeowners, are you ready? Let's get started.
1. Clean your gutters
Routine gutter maintenance is a critical task for homeowners. Many professionals recommend that you clean your gutters twice a year – once in the spring and once in the fall.
So, after the leaves have fallen, it's time to clean your gutters. Remove leaves, twigs, and any loose debris. Cleaning your gutters can prevent water damage, protect your roof, keep critters and pests away, reduce the risk of exterior and foundation cracks, and save you money. Foundation repair alone could cost upwards of $7,000. As Rocket Mortgage says, clean your gutters now or pay the price later.
2. Check your windows and doors
Check your windows and doors for drafts. Proper sealing and insulation can save up to 20% on heating and cooling costs, or up to 10% on your total annual energy bill.
If you're looking to reduce the amount of energy lost in your home, consider weatherstripping your windows and doors. Weatherstripping can reduce your heating and cooling bills by as much as 30% while reducing drafts that cause discomfort.
3. Check your safety devices
Once a year, you should check to make sure your safety devices are working. This is a quick and easy task that can save lives. Check your smoke detectors and carbon monoxide alarms. Replace the batteries, if needed.
4. Check your heating system
Whether you have a boiler system, furnace, electric heating, heat pump, or fireplace, you'll want to have your heating system inspected. It is recommended that you service your heating and air conditioning equipment, no matter what kind you have, at least once a year.
If needed, hire a professional to test your system and maximize its performance and safety. Also, don't forget to replace air filters and clean your heating ducts to improve efficiency and relieve respiratory problems. You don't want to be stuck inside with a broken heating system when winter rolls around!
5. Drain and turn off outdoor faucets
Want to prevent your pipes from freezing or bursting? Well, here's an easy fix. 
If you're done using your hoses for the rest of the year, go ahead and locate your exterior faucets. Remove them, drain any residual water, and store them in a safe place. Leaving hoses attached can cause water to freeze, expand, and crack the faucet or pipes. Next, turn off any water supply lines that lead to your exterior faucets. That was easy, wasn't it?
6. Inspect your roof
From tropical storms to extreme heat, the summer season can wreak havoc on your roof. For this reason, the National Roofing Contractors Association recommends checking your roof at least twice a year. 
The last thing you want in the middle of the winter is a roof leak. Perform a quick roofing inspection by looking for broken or missing shingles, cracked caulk or rust spots on flashing, tree branches or large debris, and patches of moss and lichen. Make the necessary repairs as needed.
7. Inspect and repair outdoor walkways
Take a walk around the perimeter of your home and inspect your driveway, side walkways, porch, deck, etc. Look for cracks and check the supports, stairs, and railings.
When water seeps into cracks, it freezes and expands, causing larger cracks and more damage. Fall temperatures are optimal for crack sealing. To avoid this and additional problems, repair cracked or broken concrete, screw-down loose boards, and caulk and seal any areas with structural damage.
8. Get your yard ready
There are a few things you can do to prep your yard for winter.
First, trim any tree limbs, especially those that are hanging over your house or power lines. Fallen branches or overhanging tree limbs could fall and damage your home in stormy, windy, or icy conditions.
Second, it's a great time to fertilize your lawn to ensure healthy grass in the spring. Roots are still active when the grass isn't growing, so fertilizing your lawn will prevent winter damage. The Scotts Company suggests applying fall lawn fertilizer once between August and November.
Third, after the leaves have fallen, it's time to rake your lawn. Home Depot suggests waiting till the first frost or snow of the winter season.
And lastly, an extra tip is to move your outdoor furniture and plants inside. UVM suggests bringing your plants indoors before nighttime temperatures dip below 45 degrees.
Tackling these fall maintenance projects can protect your home and save you money long-term. Go ahead and check them off your to-do list so you can relax and enjoy fall, football, and sweater weather.
Let's get started
Use our free mortgage and amortization calculators to determine your monthly payment, including mortgage insurance, taxes, interest, and more.
To get started with the mortgage loan process, get a free rate quote or fill out our online loan application to get pre-approved!

Get My Free Rate Quote